About Us - Boyle
Ardcarne Garden Centre, Boyle. Tel. (071) 966 7091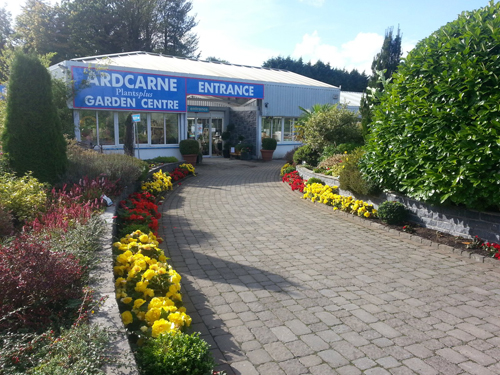 Nestled among the beautiful rolling hills of County Roscommon the Award winning Ardcarne Garden Centre is far removed from the hustle and bustle of modern living yet just off of the N4 between Boyle and Carrick-on-Shannon. Since it first opened in 1986, Ardcarne Garden Centre has been recognised as one of Ireland's best and is a haven for enthusiastic gardeners, whether you are searching for that special plant or simply looking for advice and ideas to get you started.
When you arrive at Ardcarne Garden Centre you'll enter through an extensive covered area brimming with colourful plants – so you can shop in comfort whatever the weather. The garden centre is designed for easy shopping and you can find everything you need for the garden whether you are interested in 'growing your own' fruit and vegetables or looking for the latest in garden furniture. Plants remain our passion here at Ardcarne Garden Centre and you will always find new and exciting plants suited to different conditions, to ensure they will thrive in your garden. We know that choosing plants can be a bit daunting if you are new to gardening, so our team of qualified and friendly staff is always on hand to offer assistance.
In 1998, a second branch of Ardcarne Garden Centre opened in Roscommon Town which offers convenient shopping for all your gardening needs right in the heart of the town.
Here are some of the reasons why you'll love Ardcarne Garden Centre:
1. Huge Plant Range - You can choose from one of the widest range of plants in the country.
2. Free Expert Advice - Our full-time team of qualified horticulturists have a passion for gardening. This means they are extremely dedicated with a high level of practical experience so you can get sound gardening tips every time you visit.
3. Free Customer Events - Throughout the year you can come along to free customer events and demonstrations and meet fellow gardeners.
4. Full Landscaping & Design Service – Have your garden professionally designed and landscaped by our award-winning landscape service.
5. Free Weekly Newsletter - You can receive a free newsletter every week by email which includes advice, offers and topical articles to help you get the best from your garden.
6. Free Plant Ordering Service – We'll try to find that rare plant for you and contact you when it's in stock.
7. Delivery – We will deliver larger items to your home for a nominal charge.
8. Personal Touch – We enjoy getting to know our customers and their gardens and have a local knowledge of what plants do well in certain areas. We are also happy to help you choose the perfect gift for that special person or occasion. And remember, Ardcarne Gift Tokens are always warmly received and a joy to spend throughout the year.
9. Plant Guarantee - All our hardy plants are covered by a two-year guarantee. Apart from damage by extreme winter weather – if a plant fails just bring it back with a receipt and we'll give you a free replacement.
10. Convenient shopping – Both our branches have ample free parking and are open during lunch seven days a week.