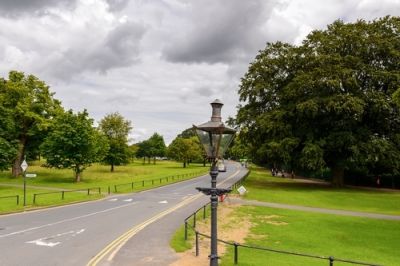 Bloom in the Park by Bord Bia is Ireland's premier garden festival running from Thursday 30th May to Monday 3rd June 2019 which is its 13th year. A huge horticultural showcase of garden plants, garden design and much more including food and farming its a creative, fun, festival type show set in 70 acres of land in Phoenix Park, Dublin.
Meander the show gardens at Bloom in the Park
With various size show gardens from large to small plus feature gardens, you will be spoilt for choice and also spend a lot of time indulging in the amazing planting, taking a great deal of inspiration for your own garden. Take a look at the UCD History of the Irish Diet in Plants Garden and the Crumlin Children's Hospital Garden. The E3 Garden and The Great Outdoors will be a good choice to take a look at as well but don't miss out on any of them
Shopping is a must at Bloom in the Park
A must is to head for the Floral Marquee which will be showcasing the very best of floral nurseries in Ireland. Enjoy a huge selection of floral displays along with plants and flowers for sale. You won't be able to resist. There will be over 45 of Ireland's top nurseries and florists with so much to inspire you. Have your camera at the ready! If you'd like to take a break from flowers you can also find a huge variety of major home improvement products in the Outdoor Retail area with brands like Bosch, Viking, Sthil, Honda amongst many other top suppliers. So your accessories, tools and hand landscaping needs will be covered! Don't forget the Irish Craft Village with 25 outdoor stands showing the best of Irish crafts.
Bloom in the Park has plenty of entertainment
The RTÉ set and garden will hold a host of activities for all ages to enjoy. There will be live TV and radio broadcasts, children's entertainment, panel events, music on the grass and so much more. So don't forget to take a seat and relax for a little while being entertained. There is a fashion stage and also a garden expert stage where you can pick up some tips and tricks for your garden.
Take a break for some food at Bloom in the Park
After all of that plant perusing, you'll soon work up a hunger! Bloom has a large area dedicated to Ireland's top food and drinks producers so you won't be short of choice in the Food Village. You'll find fresh food, artisan and organic produce, meats, poultry, fish along with fresh fruit and vegetables. Don't forget to chat with the producer to find out more about where the food has come from.
If you can't bring home everything you've seen at Bloom, bring home some inspiration and come into the garden centre to put your plans into action!