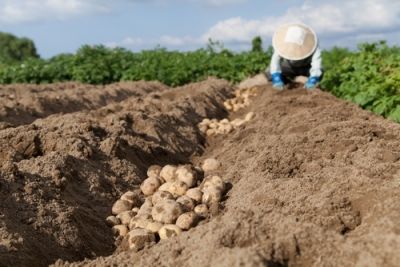 Ireland's favourite vegetable is in the spotlight this month as we get ready for the nation's annual Potato Festival in the grounds of the Causeway Hotel in Bushmills, Co Antrim.
Among the biggest of Ireland's events to be dedicated to the humble spud, the Potato Festival marks the legacy of local man John Clarke OBE who was a pioneer in potato breeding, producing outstanding potato varieties like Ulster Prince and Maris Piper, still widely grown today.
Taking place over the weekend of 12th and 13th October, the Festival includes cookery demonstrations, talks and displays as well as an artisan market, food and craft producers. On the eve of the Festival you can also enjoy a 'Super Spud Tour' along the Causeway coastal route, celebrating the area's unique potato breeding and growing heritage with a potato producer tour, themed lunch and even a cocktail featuring Ireland's first potato distilled vodka!
Now is the time to lift your maincrop potatoes to store for winter, as they'll have spent the season building up a bumper crop that will keep for up to three months if stored well. Lift the whole crop, choosing a dry day if possible, and then leave tubers on the surface of the soil for a couple of hours so the skins can 'cure' (harden) ready for storage. If it's raining, bring them under cover – a greenhouse or just the floor of a spare room or conservatory is fine. Turning them halfway through helps skins to dry evenly.
Brush off any excess dirt, checking your tubers as you do so for blemishes – any which are damaged can be set aside for eating straight away, as they'll quickly rot if you try to store them. Then carefully tip your tubers into hessian or paper sacks and place somewhere dark, dry and frost-free until you need them.