EAN code

076567062034

Brand

Approx. Seed Count

30

Flower Colour

Pink

Season of Interest

Autumn, Summer

Hardiness

Half-hardy Annual

Sowing Month

March, April, May
An award winning variety in a superb mixture of colours. This beautiful dwarf Cosmos reaches a maximum height of 60cm (24") making it perfectly proportioned for sunny borders and containers. The 8cm (3") wide, daisy-like blooms of Cosmos 'Sonata Series Mixed' float above the finest lacy foliage. Strong stems and a long vase life make this compact annual ideal for cutting for a colourful bouquet. Cosmos 'Sonata Series Mixed' is particularly useful for exposed positions.
Sow Cosmos seed from March to May at a depth of 3mm (1/8") in a good quality seed compost, and cover the seeds with a very fine sprinkling of vermiculite. Place the seed tray in a propagator at a temperature of 18-25C (64-77F) or seal it inside a polythene bag. Keep the soil damp but not wet. Do not exclude light as this aids germination which usually takes 7-15 days.
When seedlings are large enough to handle, transplant into 7cm (3") potsand grow them on in cooler conditions until large enough to plant outdoors. When Cosmos plants are well grown and all risk of frost has passed, acclimatise them to outdoor conditions over 7 to 10 days. Transplant outdoors in full sun in any moist, well drained soil at a distance of 45cm (18") apart. Pinch out the growing tip of each stem when transplanting to encourage stems to branch and produce more Cosmos flowers.
Can be grown in any well-drained soil in full sun.
Height: 60cm
Spread: 40cm
Most of our products are now available for delivery nationwide, up to 30kg, via courier service. Exceptions include bulk items such as tonne bags, mature trees and furniture, which we can only deliver within the local area by arrangement (see below for estimated delivery charges for these items).
Our standard delivery charge for items ordered online is €9.95 for any order up to 30kg, regardless of the number of items included. Should your order exceed 30kg, we may contact you to arrange for a surcharge to cover the delivery costs. Please also note that whilst we may take orders from many different countries, we can only arrange delivery within the Republic of Ireland
If you wish to order seeds only, our standard postage fee is €3.80 regardless of the number of seed packets you order.
There is currently no postage fee for the the purchase of Gift Tokens.
For orders received by 2pm, we will endeavour to ship these within 3 to 5 working days. Please ensure that you remove all plant items from their packaging immediately upon arrival and water if necessary as we cannot be responsible for damage caused to plant health if they have been left packaged beyond their delivery date.
For all "Click 'n' Collect" orders made before 2pm, please allow at least 24 hours before collection. There may be occasion where we have to transport stock from one garden centre to another for example, which may cause some delay. In such circumstances you will be notified by email. Please check your emails before setting off to collect your order.
Please click on the the following to review our Returns Policy and Terms of Use.
For bulk items including tonne bags, mature trees and furniture, these must be made by arrangement by contacting [email protected] or calling 071 966 7091. For full details of our delivery charges including approximate fees for local delivery of bulk items please click here >>>
If you are looking for more information about this product or wish to see our full range, please visit one of our stores in Boyle or Roscommon
Town, where our friendly, qualified staff are always available to give advise and answer any questions you may have.
Our Stores:
Ardcarne Garden Centre - Boyle
Ardcarne Garden Centre
F52 RY61 Boyle
Ardcarne Garden Centre - Roscommon Town
Ardcarne Garden Centre
F42 HW99 Lanesboro Road
Our opening hours are available at the bottom of each page.
For full details of our locations including maps, please visit our Location pages.
Enquiry
We store your data securely according to our privacy policy.
Should you be looking to place an order for delivery via the enquiry from, please include your full address, including eircode, as well as completing the contact telephone number area of this from. Without this we will be unable to process your order. For general enquiries of course this will not be necessary. If you wish to make an order for collection from one of our stores please state this within your request. Thank you.
Since the first seed catalogue was published in 1855, Thompson & Morgan has grown to become the UK's largest Mail Order Seed and Plant company.
"Our product range has also expanded to include an award winning seed range, young plants, bulbs, seed potatoes, onions and garlic sets, soft fruit and fruit trees as well as an extensive range of gardening supplies. All have been carefully selected through stringent testing and trials to make gardening a pleasure and a success for our customers." - Thompson & Morgan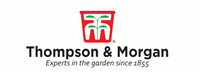 More products from Thompson & Morgan
Buy Cosmos 'Sonata' Mixed (30) online or in-store at Ardcarne Garden Centre. Our 2 stores in Roscommon and Boyle are easy to reach from your place, including Carrick on Shannon, Bellymahon and Longford. You can find this Thompson & Morgan product or or shop other products from our selection of Flowers. Buy Cosmos 'Sonata' Mixed (30)online or visit our garden centres!