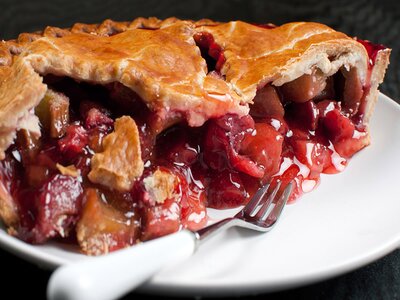 If your looking for a sweet, juicy recipe to follow so you can turn your rhubarb crop into a sumptuous dessert, then you need look no further than this local recipe, originally provided by Anna Dodd of Castlebaldwin in Co. Sligo and published in Darina Allen's book, "Irish Traditional Cooking":
Ingredients:
2lb (900g) Rhubarb Stalks
9-10oz (255-295g) granulated sugar.
For the Scone dough:
11oz (310g) flour
3/4oz (20g) caster sugar
1 heaped teaspoon of baking powder
pinch of salt
2oz (55g) butter
1 egg
about 6 fl.oz (175ml) full cream milk
beaten egg
granulated sugar
Method:
You will need a 9x2 inch (23 x 5cm) round tin. A heavy stainless steel sauté pan works very well.
Preheat oven to 230°C/450°F/gas mark 8.
Trim rhubarb, wipe with a damp cloth and cut into 1 inch (2.5cm) pieces. Put in the base of the tin or sauté pan and sprinkle with sugar.
Sieve all the dry ingredients for the scone dough into a bowl.
Cut the butter into cubes and rub into the flower until the mixture resembles coarse breadcrumbs.
Whisk the egg with the milk. Make a well in the centre of the dry ingredients, pour in the liquid all at once and mix into a soft dough.
Turn out on to a floured board and roll into a 9 inch (23cm) round, about 1 inch (2.5cm) thick.
Place this round on top of the rhubarb, tuck in the edges neatly, brush with a little beaten egg and sprinkle generously with granulated sugar.
Bake in the preheated oven for 15 minutes then reduce the temperature to 180°C/350°F/gas mark 4 for about a further 30 minutes or until the top is crusty and golden and the rhubarb soft and juicy.
Remove from the oven and allow to sit for a few minutes. Put a warm plate over the top of the tin or pan, then turn it upside-down so that the pie comes out on to the plate.
Be careful of the hot juices.
Serve warm with soft brown sugar and cream.
Enjoy!
For information about growing your own rhubarb, click here >>>
To order rhubarb crowns online so that you can make this recipe, and many others, for years to come, click here >>>
Image courtesy of parade.com