EAN code

999999000183

Brand
For wheelchair gardeners, or others who find it easier working from a seated position, we offer four long reach tools. These are also used by gardeners who struggle to bend down.
The extended shank of this Long Reach Easi-Grip® Cultivator allows you to reach ground level or the back of a raised bed.
Although these tools still have all the benefits of our ergonomic handle we recommend that they are used with our arm support cuff for optimum control and minimum strain on the wrist.
Angled Handle
Keeps the hand and wrist in a natural angle with prevents causing discomfort of the wrist
Non-Slip Grip
Tool does not require such a firm grip and is less likely to twist in wet or damp conditions
Stainless Steel tool
Tool glides smoothly through soil even when wet and stops the tool becoming heavy with the weight of any adhered earth
Option to add arm support cuff
Versatility to allow tool to be used as it is or with extra assistance. Suitable for use in groups of gardeners with different needs or can be adapted if user's strength deteriorates
Extended shank
Allows a longer reach so wheelchair gardeners or those with bending difficulties can reach ground level.
Most of our products are now available for delivery nationwide, up to 30kg, via courier service. Exceptions include bulk items such as tonne bags, mature trees and furniture, which we can only deliver within the local area by arrangement (see below for estimated delivery charges for these items).
Our standard delivery charge for items ordered online is €9.95 for any order up to 30kg, regardless of the number of items included. Should your order exceed 30kg, we may contact you to arrange for a surcharge to cover the delivery costs. Please also note that whilst we may take orders from many different countries, we can only arrange delivery within the Republic of Ireland
If you wish to order seeds only, our standard postage fee is €3.80 regardless of the number of seed packets you order.
There is currently no postage fee for the the purchase of Gift Tokens.
For orders received by 2pm, we will endeavour to ship these within 3 to 5 working days. Please ensure that you remove all plant items from their packaging immediately upon arrival and water if necessary as we cannot be responsible for damage caused to plant health if they have been left packaged beyond their delivery date.
For all "Click 'n' Collect" orders made before 2pm, please allow at least 24 hours before collection. There may be occasion where we have to transport stock from one garden centre to another for example, which may cause some delay. In such circumstances you will be notified by email. Please check your emails before setting off to collect your order.
Please click on the the following to review our Returns Policy and Terms of Use.
For bulk items including tonne bags, mature trees and furniture, these must be made by arrangement by contacting [email protected] or calling 071 966 7091. For full details of our delivery charges including approximate fees for local delivery of bulk items please click here >>>
If you are looking for more information about this product or wish to see our full range, please visit one of our stores in Boyle or Roscommon
Town, where our friendly, qualified staff are always available to give advise and answer any questions you may have.
Our Stores:
Ardcarne Garden Centre - Boyle
Ardcarne Garden Centre
F52 RY61 Boyle
Ardcarne Garden Centre - Roscommon Town
Ardcarne Garden Centre
F42 HW99 Lanesboro Road
Our opening hours are available at the bottom of each page.
For full details of our locations including maps, please visit our Location pages.
Enquiry
We store your data securely according to our privacy policy.
Should you be looking to place an order for delivery via the enquiry from, please include your full address, including eircode, as well as completing the contact telephone number area of this from. Without this we will be unable to process your order. For general enquiries of course this will not be necessary. If you wish to make an order for collection from one of our stores please state this within your request. Thank you.
"PETA, (Practical, Ergonomic & Therapeutic Aids), was established in 1975 by Lionel Crockett. Lionel had previously been working as a designer in the electronics industry but became aware, through a Radio 4 broadcast by the Disabled Living Foundation (DLF), of the lack of manufacturers designing items for people with disabilities; consequently he turned his design skills to address these needs.
"In the early 1990's Lionel developed a range of garden tools for a friend who had arthritis and found it strained her hand and wrist to use conventional style tools. To better understand the needs of disabled gardeners Lionel contacted Thrive, the charity for social and therapeutical horticulture, and developed close links with this organisation. The wellbeing benefits of gardening have been particularly recognised since the Covid-19 pandemic as people have turned their attention to making their outdoor space a haven for wildlife and tranquillity.
OUR MISSION: To improve the quality of day-to-day life for those with grip difficulties through the design and distribution of high quality products with excellent customer service, whilst trading ethically and socially responsibly." PETA [uk] Ltd.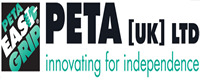 More products from PETA [uk] Ltd
Buy PETA Easy-Grip® long handle cultivator online from Ardcarne Garden Centre or visit one of our stores where you will find an even wider selection amongst our inspiring displays. Our stores are located in Boyle and Roscommon Town and are within easy reach of Carrick-on-Shannon, Sligo, Ballymahon, Leitrim and Longford. You can find this PETA [uk] Ltd product and many others like it within our Garden Tools collection online and in store. We can deliver most of our products nationwide (see Delivery Service), as well as offering a Click 'n' Collect service or you can simply visit one of our garden centres, where our qualified staff are always at hand to offer help and advice. If you're heading to our store in Boyle you can even relax and have a coffee or some lunch at the Ardcarne Garden Café.
Write a review about "PETA Easy-Grip® long handle cultivator"
If you wish to share your experience or thoughts on a particular product then please let us know! If you could please limit your review to details about the product itself it would be appreciated and will prove helpful to other customers looking to make a similar purchase...