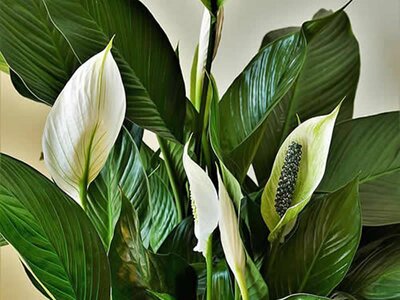 In 1986 the National Aeronautics and Space Administration (NASA) in association with the Associated Landscape Contractors of America (ALCA) undertook a 'Clean Air Study' in which the results suggested that in addition to absorbing carbon dioxide and releasing oxygen, certain types of houseplants also provided a natural way of removing other pollutants such as benzine, formaldehyde and trichloroethylene also referred to as naturally occurring 'Volatile Organic Chemicals' or 'VOCs'.
Now of course, like many studies, these were conducted in a lab setting and the benefits within the home may not be as effective as those reported within a sealed laboratory, but there have been several studies since which demonstrate that not only are these houseplants themselves beneficial but that the micro-organisms in the soil of a potted plant also help in removing benzene from the air*.
Below we have listed those that were concluded to be, from several studies, the most effective air-purifying plants to have in your home:
Top Houseplants that Help Purify the Air in Your Home

Peace Lily
Easy and reliable houseplant that thrives indoors.

Flowers best in bright dappled light but tolerates shade

Aloe Vera
Well known indoor succulent.

Loves a bright sunny windowsill or sunroom

Ivy
Pretty lobed leaves in green or edged with gold or silver.

Allow to trail down or train up a support

Mother-in-Law's Tongue
Cheekily named houseplant that's virtually indestructible.

Very dramatic in a big pot

Spider Plant
Super easy houseplant!

Makes a lush rosette of brightly variegated leaves. Lovely in a hanging pot
There are also many other houseplants that have air purifying qualities and studies have also shown that owning and looking after indoor plants has mental health benefits too. We have a wide range of houseplants available online and an even wider range available in store. Why not pay us a visit and should you have any questions about how to care for your houseplants or which ones are most suited to your home, our friendly, qualified staff are always happy to help.
*Orwell, R.; Wood, R.; Tarran, J.; Torpy, F.; Burchett, M. (2004). "Removal of Benzene by the Indoor Plant/Substrate Microcosm and Implications for Air Quality". Water, Air, & Soil Pollution. 157 (1–4): 193–207