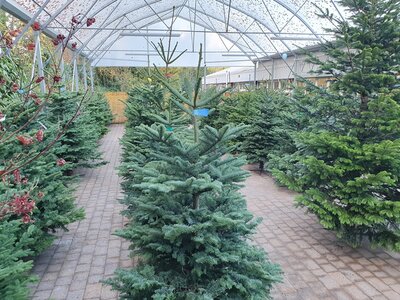 Wondering how to choose the perfect Christmas tree can leave you confused, but we don't want that to ruin your experience of choosing the tree for your festivities, photos and family time. Christmas tree shopping can be fun and exciting. Imagine shopping for the most beautiful Christmas tree on a winter day. What is your favourite type? We have a few tips on what to look out for, so you can shop with confidence to find the perfect tree for you.
Different real Christmas tree types
Before you go shopping, decide which you would prefer as each Christmas tree will look slightly different. We have mainly two varieties of Christmas trees available that are both non-shed:
Nordmann Fir - the most popular of all Christmas trees. Hold its dark green needles for a long time on the branches. Non-shed needles that will last throughout the season.
Noble Fir - a dense that is one of most popular types of fir trees sold in Ireland, it has a sturdy shape that can carry the Christmas ornaments well. The Noble Fir needles are strong and will remain on the tree throughout the Christmas season.
Size and shape
It's easy to get carried away when Christmas tree shopping, but you probably don't want to go home with a tree you can hardly fit through the door or, conversely, a tiny tree that you can barely see in the corner of the room. Measure up the space where you want to place your tree, so you know the height and width of the area. This will help you pick the right size tree. The shape is essential as well. Would you like a dense and wide tree or one to fit a small and tall corner? Ideally, keeping a tree away from any heating source is best. Think about these before you go shopping. We currently have Christmas trees sized from around 5/6ft up to 14ft high with prices starting from €39. Our real trees are only available for purchase in store and we are able to wrap the trees for ease of transport.
Things to look out for
When buying a real tree, always check the freshness of the tree, gently grabbing the inside of a branch and pulling the needles towards you. If many needles drop when you do this, it's best to try a different tree. Don't forget to think about a tree stand, which helps keep the tree in place. We offer several tree stands at our garden centre. Please ask our staff to help you. We can also help you make a new clean cut at the bottom, so that water can be absorbed easily.
Artificial tree options
We've got you covered if you prefer an artificial tree over a real Christmas tree. Artificial trees can be used over and over again, and even when you no longer want to use them anymore, there are ways to recycle or give them to charity or pass them on to friends and family. With such a wide variety available, there is one for everyone! From dark green and very real looking to white, lights already on the tree to twig trees and giant trees - if you'd prefer to have a tree that comes out year after year, can be stored in the attic and doesn't drop needles, then perhaps an artificial tree is right for you.
We would love you to come Christmas tree shopping in store and enjoy the festivities.